ADCT: A NEW HIGH QUALITY DCT BASED CODER FOR LOSSY IMAGE COMPRESSION

ADCT in 2008 was state-of-the-art lossy image compression method provided the best ratio-distrortion performance in the scientific literature. ADCT is FREE for scientific use.

N.N. Ponomarenko, V.V. Lukin, K.Egiazarian, J. Astola, "ADCTC: a new high quality DCT based coder for lossy image compression", CD ROM Proceedings of LNLA, Switzerland, August 2008, 6 p.


---

A research version of the coder (only for Photoshop grayscale RAW images coding) and test images are given below:

adct.zip (50 Kb) - ADCT.
testset1.zip (3 Mb) - set of 512x512 grayscale test images (16 images).
testset2.zip (25 Mb) - set of 2288x1712 grayscale test images (8 images).


---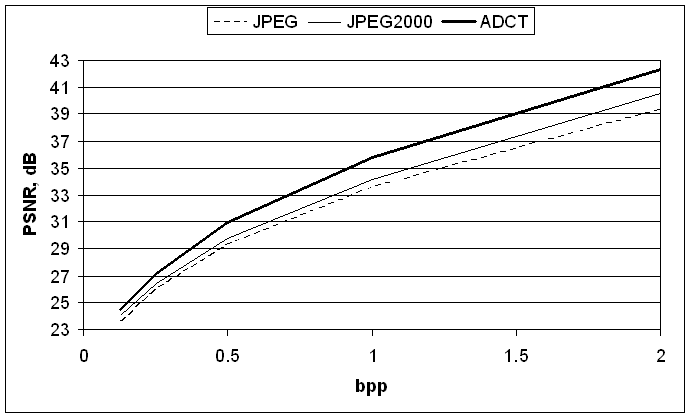 Comparison of the coders JPEG, JPEG2000, and ADCT for entire set of the test images 2288x1712 pixels (see the paper).

JPEG - JPEG with the uniform quantization and deblocking
JPEG2000 - D. Taubman, M. Marcellin, JPEG 2000: Image Compression Fundamentals, Standards and Practice. Boston: Kluwer, 2002


---

Visual comparison (bpp for all compared methods is equal to 0.25):
1 - Original image, 2 - JPEG image, 3 - JPEG2000 image, 4 - ADCT image, 5 - Partition scheme for ADCT

Use mouse and keyboard to switch between images.


---
Key words: efficient DCT based lossy image compression, image compression using partition schemes, advanced image compression, the best ratio-distortion performance, heuristic context modeling, adaptive compression, signs coding, deblocking, context-based entropy coding, state-of-the-art lossy image compression, discrete cosine transform.

Back to main page...

---
Last changed: 2018-12-15.